We all know that Mike can sniff a diamond in the rough at a thousand paces – he's not one half of the Wheeler Dealers dream team for nothing – and the auction house is his natural habitat, but this list of the world's most expensive cars sold at auction may stretch even Mike's ability to secure a great deal!
This list of the most expensive second hand cars is exactly as it says – the most expensive cars sold at auction. Over the last decade or so, buying classic cars has emerged as a legitimate asset class. In the same way people invest in property or fine wine they now also peruse classic cars, and as investors steer away from the volatility of the financial markets this increased demand brings massively increasing prices! And even if you think you know what to look for when buying a used car this list of astonishing purchases will astound even the most hard-nosed car buyer.
You'll hear hushed whispers of private deals, and if people want to keep their car-buying activity between themselves, that's their business. Unverified reports of a Ferrari 250 GTO changing hands for $52m surfaced in 2013 and three years previously the 1936 Bugatti Type-57 SC Atlantic was rumoured to have been bought for between $30-$40m. But for those million-dollar motors that have gone public, there are some truly sensational entries as iconic classic cars have broken the records time and again.
So, here we are. The world's most expensive cars ever sold at auction from 10 to 1.
10 | 1956 Aston Martin DBR1/1 | $22,500,000
In a list dominated by classic Italians and Germans, the DBR1/1 is, to date, the most expensive British car ever sold at auction. One of only five, this astonishing Aston was victorious at the 1959 24 Hours of Le Mans and is one of only three cars from the 1950s to have won Le Mans and the World Sports Car Championship in the same year. It was sold by Sotheby's in 2017.
9 | 1955 Ferrari 410 Sport | $23,000,000
The Scaglietti-designed, 380 hp, five-litre V12 – chassis No. 0592CM – was designed to race in the Carrera Panamericana in Mexico, one of the world's most dangerous races (the chassis designation CM stood for Carrera Messicana). The race was cancelled and the 410 saw very little competitive action on the international circuit but it is one of Ferrari's rarest racing cars, hence the huge sale price.
8 | 1964 Ferrari 275 GTB/C Speciale | $26,400,000
The 275 GTB/C Speciale – chassis No. 06701 – is one of only three built in Maranello in 1964 and 1965 and was designed to take on the Ford GT40 and the Shelby Cobra Daytona at Le Mans in 1965. This particular model didn't see any race action but it was the first Ferrari with independent rear suspension and was powered by a 3.3-litre V12 with 320 bhp. It was sold by RM Auctions in Monterey in 2014.
7 | 1967 Ferrari 275 GTB/4 NART Spider | $27,500,000
Chassis No. 10709 is a bona-fide film star. This car starred alongside Steve McQueen in The Thomas Crown Affair where it's memorably described as 'one of those red Italian things.' A convertible for the American market, importer Luigi Chinetti adorned each one with the NART (North American Racing Team) badging on the rear of the car. It was sold by RM Auctions in Monterey in 2013.
6 | 1956 Ferrari 290 MM | $28,050,000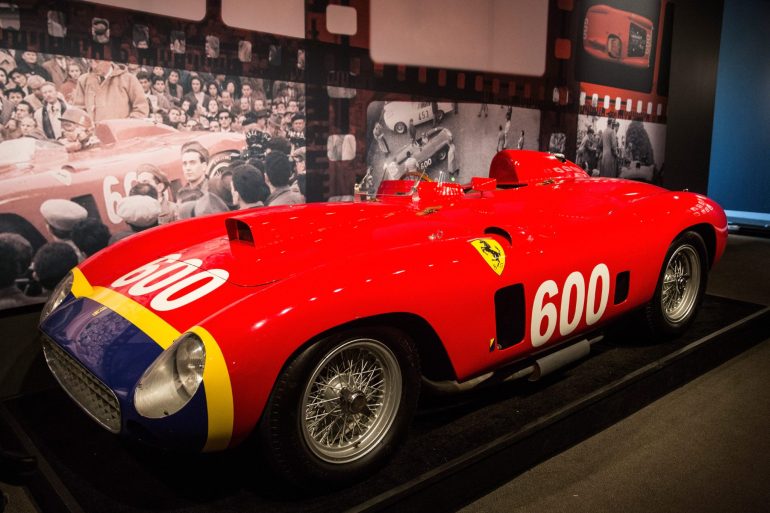 Sold in New York in 2015 and designed by Scaglietti, the ex-works 290 MM was developed specifically to compete in the 1956 Mille Miglia, hence MM. Just four of the 3.5-litre V12 cars were built and the car that sold for over $28 million – chassis No. 0626 – was driven by Juan Manuel Fangio to fourth in the  famous race.
5 | 1954 Mercedes-Benz W196 | $29,600,000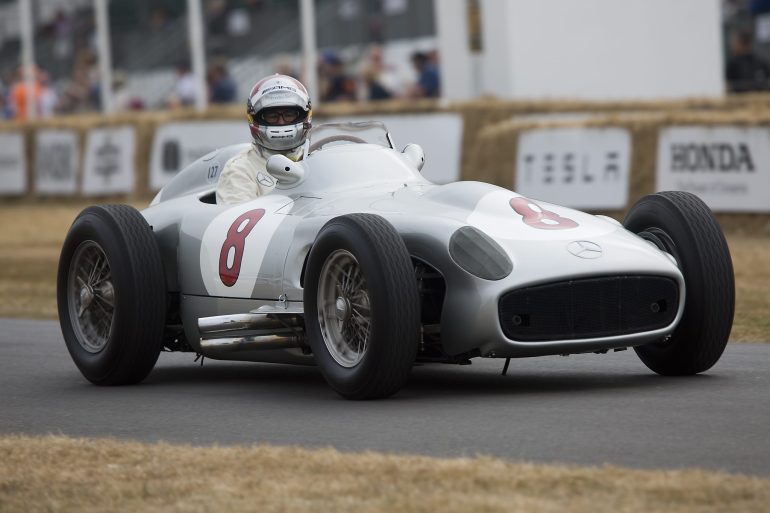 Setting a new record at time of sale, this Mercedes was driven by none other than five-time F1 god Juan Manuel Fangio. It was sold in what auctioneers call 'authentic' condition – meaning its bodywork still bore the minor knocks and scrapes it had amassed over the years, with each minor blemish speaking to another chapter in this car's world-beating story. Still looking as if it had just driven into parc fermé after a couple of hundred laps of the Nürburgring, it sold at the Goodwood Festival of Speed in 2013.
4 | 1957 Ferrari 335 S | $35,730,510
Also known as the 335 Sport Scaglietti, the impossibly rare and gorgeously curvy four-litre V12 is one of just four ever made and has been compared to a Rodin sculpture or a Picasso masterpiece. Chassis No. 0674 is believed to have been driven by F1 drivers Mike Hawthorne and Stirling Moss and was raced in both the Mille Miglia and the 24 Hours of Le Mans. It was sold at auction in Paris in 2016.
3 | 1962 Ferrari 250 GTO Berlinetta | $38,115,000
Sold by Bonhams in August 2014, this stunning Ferrari is one of the most expensive second-hand cars in the world and reinforces Ferrari's place as one of the most expensive car brands on the planet. Only 39 were built and this model, chassis No. 3851GT was the nineteenth in sequence. This particular car had a true racing pedigree, taking part in a number of events during the early 1960s as a series of owners put it through its paces. It even survived a battering during the Coppa Inter-Europa GT in 1964 where it was involved in an accident which saw its cabin roof cave-in and its body panels extensively dented.
2 | 1962 Ferrari 250 GTO | $48,405,000
Auctioned by Sotheby's in August 2018, chassis No. 3413GT is believed to be the third production 250 GTO ever built. It was driven by Phil Hill in the 1962 Targa Florio and by Gianni Bulgari who secured class wins in the 1963 and 1964 Targa Florio. It went on to have an exceptional racing pedigree as well as numerous owners. In 2000, the Ferrari ended up in the ownership of Dr Greg Whitten, one of the Microsoft pioneers alongside Bill Gates and Paul Allen. It was sold at a public auction in Monterey, California and is the second most expensive second-hand car ever.
1 | 1955 Mercedes-Benz 300 SLR Uhlenhaut Coupe | $143,000,000
Sold by Sotheby's in May 2022 and one of two in existence (the other is in the Mercedes-Benz Museum in Stuttgart, Germany), the 300 SLR is the world's most expensive second-hand car. Named after its creator Rudolf Uhlenhaut, the 302 hp, three-litre straight-eight engine was taken from Juan Manuel Fangio's Grand Prix World Championship-winning car and is a masterpiece of design and engineering. Dubbed 'the fastest race car to never compete in a race', it was sold at an invite-only auction to an unknown collector.