Trying to define what makes a supercar is like trying to define beauty. Ask a thousand people and you'll get a thousand answers but it's generally accepted that the first true supercar in the guise we have come to accept them – mid-engined, extreme styling, 160mph+ –  was the Lamborghini Miura, the jaw-droppingly beautiful Italian movie star with 'come to bed' eyes that took the motor world by storm at the 1965 Turin Auto Show.
There were, of course, wonderfully 'super' cars that came before – the Mercedes 300SL Gullwing, the Chevy Corvette, the E-Type Jag, the Ford GT40 and the Ferrari 250GT California – but the V12 Miura, named for legendary Spanish fighting bull breeder Juan Miura, paved the way for what came after.
Maserati joined the party with the Giugiaro-designed Bora, as did Ferrari with the 365 GTB/4, or Daytona, but it wasn't until the grand-daddy of them all arrived – the Lamborghini Countach – that the term 'supercar' took on a whole new meaning. It was the bedroom poster of choice for all 80s wannabe petrolheads and for a while it was the undisputed king of the road, and with Porsche, Aston Martin, Maserati, Mercedes and Bugatti all jumping on the bandwagon, the race was literally and metaphorically on.
And what a race it is. Everyone wanted to bring on future supercars that would redefine the very term.
Pushing the fast-forward button the to start of the 21st century's second decade, we're not – as was promised in 50s sci-fi magazines and 80s teen flicks – driving around in sky cars powered by plutonium-based flux capacitors. However the supercars that we can buy today (some of us anyway), are, by any criteria in which they are judged, phenomenal.
Today the fastest cars on the road are sensational feats of engineering and design with more than a little maths and physics thrown in for good measure. Indeed, so good are they that some are called hypercars, just to make it clear that they're a whole new beast (think of Fast and Furious film cars and you're probably not far from the mark….) These models are sensational feats of engineering and design with more than a nod to physics and mathematics thrown in but can the supercars of the future that come after the Lamborghini Huracán, the Bugatti Veyron, the Pagani Huayra and the Mercedes-Benz SLS keep getting more powerful, faster, more expensive, more high-tech and more ludicrously beautiful?
It seems like the answer is a resounding 'yes'. At least in theory. The 300-mph car that can hit 0-60 in 1.9 seconds and avoid taking off isn't, technically-speaking, a million miles away but  with manufacturers having to comply with increasingly stricter efficiency and emissions regulations as well as a discerning clientele who are more eco-conscious than they were when they were buying Diablos and Testarossas, the question has to be asked – is there a future for the supercar?
Of course there is, and this is what we can expect to see in 2021 and beyond… This is the future of supercars.
Bugatti Chiron SuperSport 300+
8.0L Quad-turbo W16 | 1,578 bhp | Limited to 275 mph | Approx. £3.1m
Debuted at the 2019 Los Angeles Motor Show, the Chiron's double-hard older brother has a bigger engine (nicknamed 'Thor'), lower suspension, uprated brakes and lightweight magnesium wheels. With only 30 in existence and all – unsurprisingly – sold, the 300+ is a rare beast built in honour of the modified Chiron that hit 304.77 mph in August 2019.
Similar to the Veyron SuperSport, the 300+ is given the black and bright orange treatment and even though other trim options are available, it seems rather redundant trying to tone down this car's appearance. The standard Chiron now seems positively pedestrian at a modest, albeit limited, 261 mph and while the 300+ is limited to 275 mph, Bugatti have hinted that a limiter-free option could be available for the kind of person who wants to know what five miles a minute feels like.
Ferrari SF90 Stradale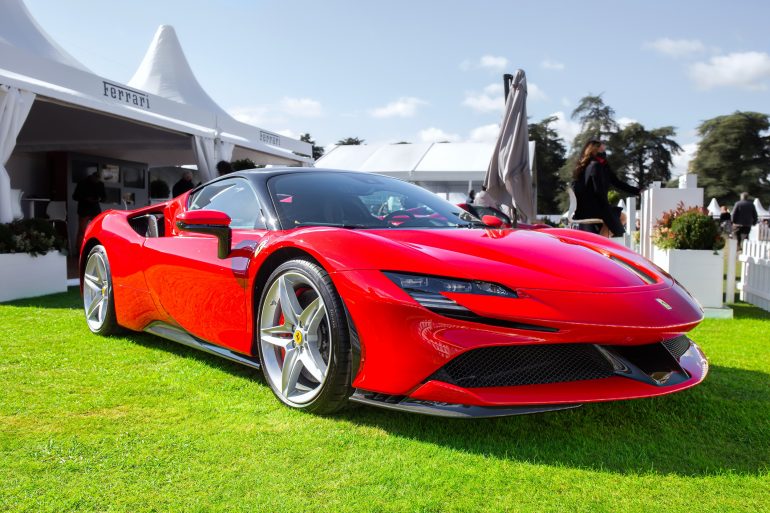 4.0L Twin-turbo V8 | 3 electric motors | 986 bhp | 211 mph | £376,000
Ferrari are old hands at producing iconic cars. Quicker around their private Fiorano racetrack than the LaFerrari (by 7/10ths of a second), the SF90 Stradale is their new halo but forget what you thought you knew about Ferrari – this is future supercar that you can plug in. It starts with no noise whatsoever, it can drive with no noise whatsoever but it is the fastest and most powerful road car they've ever built.
The mid-engined PHEV (Plug-in Hybrid Electric Vehicle) was so named to commemorate the 90th anniversary of the Scuderia Ferrari racing team and 'Stradale' means 'made for the road' so you'd be forgiven for thinking this was a celebratory V12 noise machine. It is in fact powered by a twin-turbocharged V8 and three electric motors that together generate internal organ-shifting performance of 2.5 seconds to 62 mph. Hybrid, it seems, if the future of Ferrari.
Aston Martin Valkyrie
6.5L V12 | Electric motor | 1,160 bhp | 200 mph+ | approx. £2.5m
Designed by a team led by Adrian Newey, a man with an other-worldly understanding of how to make cars go unbelievably fast and avoid taking off, the Valkyrie is a collaboration between Aston Martin and Red Bull Racing Technologies and a future supercar that can't be ignored. If you're going to name a car after a Norse god who chooses who lives and who dies in battle, it better be good. And it is. Really, really good.
The hybrid is about as close as you can get to F1 styling and technology as it's possible to find in a road car – reminiscent of the spectacular finish you'll often find on the best car customisation shows – and with a bike-like redline of over 11,000 rpm, the performance is there too. Only 150 will be built but if this is what Adrian Newey is capable of as a first punt at designing a road car, we can't wait to see what he will come up with when he really gets the hang of it.
Mercedes-AMG Project ONE
1.6L Turbocharged V6 | Four electric motors | 1,086 bhp | 217 mph+ | £2.4m
'The world's most powerful road cars don't have 1.6 litre engines', we hear you cry. They do if the 1.6 litre engine in question is a repurposed version of the Mercedes-AMG F1 W07 hybrid, straight out of Lewis Hamilton's 2015 world championship-winning Formula 1 car. Like the Aston Martin Valkyrie, it comes remarkably close to answering the mythical 'can you make an F1 car for the road' question.
Only 275 units will be made (Mercedes-AMG received well over 1,000 orders) and despite a sub-2.5 second 0-60 time and a monocoque chassis, you can still pop to the shops and back using the electric-only mode, good for around 15 miles. 'Welcome to the future' said Merc's marketing department, and while that sort of tired cliché would normally be consigned to the box in the corner marked 'platitudes', this time they may well be right.
Gordon Murray Automotive Type 50
3.9L naturally-aspirated V12 | 654 bhp | approx. 220 mph | £2.36m
'Engineered to be the most driver-centric supercar ever built. The world's lightest, highest-revving, most power dense naturally-aspirated road car engine. Most advanced and effective aerodynamics ever seen on a road car.' Not our words. These are the words of Gordon Murray, architect of some of the world's greatest F1 cars, and if automotive royalty is saying it, it must be true, mustn't it? The spiritual successor to the McLaren F1 (for which he was also responsible), the Cosworth-powered three-seat GMA T50 has been hailed by Murray himself as 'the last great analogue driver's car.'
Weighing in at a sub-Lotus Exige 980kg, there's no touchscreen, no turbochargers, no automatic gearbox, indeed there's nothing in this supercar of the future that will interfere with what will undoubtedly be a remarkably immersive and pure driving experience. Utilising a combination of complete creative freedom and a toolbox that could only have been dreamt about when putting the McLaren F1 on the road, the T50 is the stunning result of five decades of Murray's ingenuity, inventiveness and innovation.
Future Supercars: Rewriting the Rules
As much for their sheer speed and spectacular styling, it is the ground-breaking technological innovation of these future supercars that really changes the game. In the same way that Formula 1 technology opened the gates for the major players to develop exceptionally high-performance road cars, it is these cars that pave the way for the future of day-to-day cars. And that's before we've even mentioned self-drive technology form the boffins at Tesla and Google and the like.
Will we see a self-driving supercar? Never. What's the point?
But, and this is a big BUT… the supercars that we have come to covet are going through a transformation. It's no longer about who can put the biggest fire-breathing engine into a car that looks like a jet fighter and get it round the Nürburgring in four minutes.
While the designers at Aston, Porsche, Lamborghini and Bugatti et al will still churn out staggeringly beautiful cars, the engineers will be less focused on trying to squeeze a 9.0-litre lump into them and more focused on getting the maximum power output from smaller, lighter, more economical, greener, and yes, hybrid engines.