Tigers are one of the world's greatest creatures. For majesty, power and presence, they are rivalled only by lions and the great white shark. They intrigue and fascinate us like very few members of the animal kingdom can.
If you've been lucky enough to see tigers up close, you'll know what a once-in-a-lifetime experience it is, but if you haven't then tiger shows on Discovery are the next best thing.
Must-See Tiger TV Shows
For the best tiger documentaries you can stream now, you're in the right place! They are available on discovery+ right now. The lives of these wonderful, majestic beasts are laid bare in some of the most amazing tales you'll ever see from the natural world.
Surely one of the most shocking tiger shows on TV is Man-Eating Zombie Cats. What is turning tigers and other big cats into savage, man-eating killers with a taste for human blood? A violent epidemic is at large. Can it be stopped before they kill more…?
One of the most fascinating tiger TV programmes on the box has to be Tigress Blood which is available to stream now on discovery+. Famously solitary, this show challenges what we think we know about these magnificent animals. In the plains of central India, four tigresses are writing a new chapter on tiger behaviour as they team up to take down their prey.
The Kings & Queens of Animal Planet
Tigers are everywhere in popular culture, from the Jungle Book and the Life of Pi to The Tiger Who Came To Tea. These powerful apex predators have global appeal and are revered by many cultures around the world. They are also the stars of some of the best tiger documentaries on Animal Planet.
In Amba the Russian Tiger, wildlife filmmaker Gordon Buchanan travels to the bitterly cold wilds of Russia's Far East to locate the largest population of wild tigers in the world and on his epic journey he meets the people who coexist with these incredible – and elusive – creatures.
Not all tigers are as fun and friendly as the one that adorns boxes of breakfast cereal. In rural India, vicious tiger attacks are on the increase. In Killer Tigers, one of the most shocking tiger TV shows on the Discovery Channel, find out why these savage beasts are attacking humans and what villagers are doing to protect their livestock, their villages – and their families.
In Serial Killer: Tiger At Large, the race is on to find a man-eating tigress after ten people were found dead and three were eaten. Some of the world's most intrepid – and bravest – hunters combine modern technology with centuries-old hunting techniques in an attempt to find the culprit, but will they run out of time before the next victim is found?
The Roar is Fading…
…but the Discovery Channel in partnership with the World Wildlife Fund is determined to bring it back. One of the most poignant and important tiger documentaries on TV is Tigerland which tells the astonishing story of Project CAT.
Project CAT (Conserving Acres for Tigers) is a remarkable effort which aims to conserve almost six million acres of protected land in order to ensure a future for tigers and other endangered wildlife. The project will –
Improve security measures including field training and provide state-of-the-art anti-poaching tools for rangers
Monitor and assess tiger populations with camera-trap installations
Maintain land corridors to improve wildlife movement
Implement much-needed measures to reduce the conflict between humans and tigers and educate and engage with local communities
You can read more about what the Discovery Channel and the World Wildlife Fund are doing on the Project CAT website here and on the dedicated section of discoveryuk.com here.
Tiger Documentary List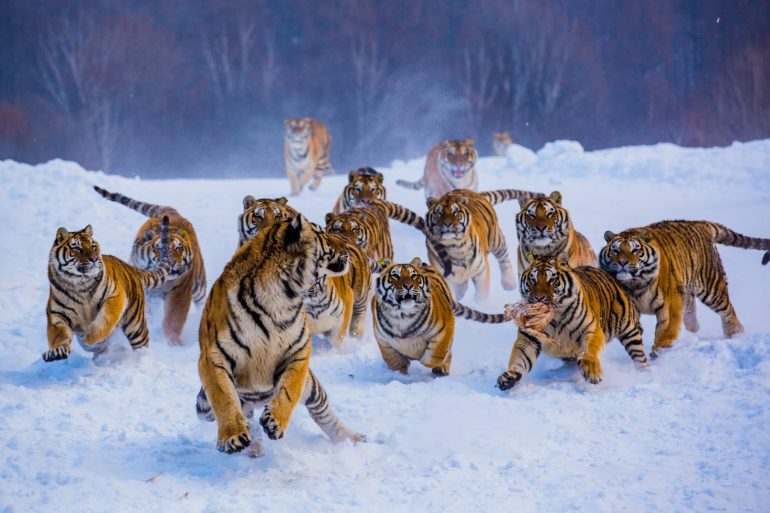 Here are the tiger documentaries you can watch on Animal Planet and discovery+ –