In seventeenth-century Russia, thrill seekers built 20 metre tall hills of ice supported by wooden scaffolding. They then careered down them on rickety sleds – no more than a block of ice with a straw seat – reaching 50mph.
In 1817, the Promenade Aériennes (or Aerial Walk) – the first modern roller coaster – opened in Paris. It had wheeled cars fixed to the 182 metre track and shot round at a death-defying 40mph.
Their popularity declined through the nineteenth century until the Cyclone opened in New York's Coney Island in 1919. From there, the competition to build the biggest roller coaster in the world was – and remains – fierce.
Sit down, put your seat belts on, tuck all loose clothing inside the car and be prepared for the ride of your life! These are the world's most amazing roller coasters.
Kingda Ka
Location: Six Flags Great Adventure, New Jersey, USA | Top Speed: 128 mph
The highest roller coaster in the world and the fastest in North America, Kingda Ka, known simply as 'The King', is a staggering 139 metres tall and propels the daredevil riders from 0 – 128 mph in just 3.5 seconds. It's so fast it completes a full circuit of the 950 metre long track in under a minute!
The King also holds the record for the biggest drop roller coaster at 127 metres. It opened in 2005 and when it did, it whisked both records away from Top Thrill Dragster. That former-holder of the title of highest roller coaster in the world, which is located at Cedar Point Amusement Park in Ohio, is 130 metres tall with a drop of 120 metres.
T Express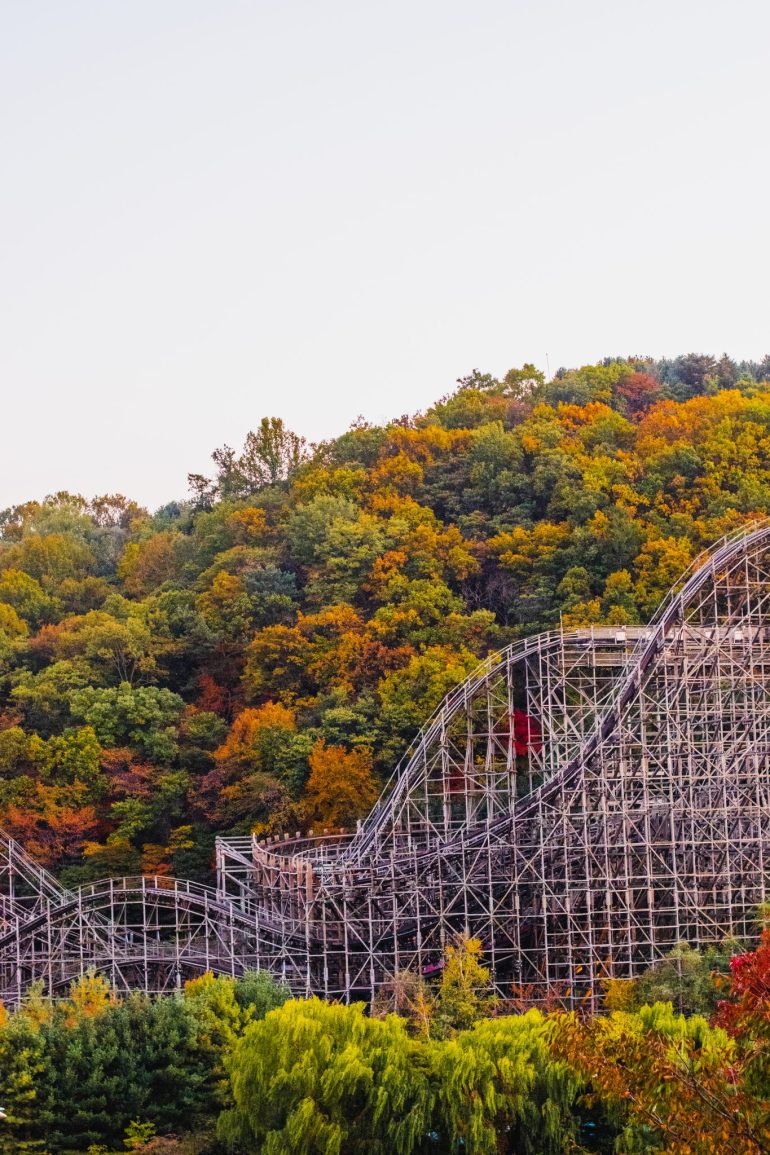 Location: Everland, South Korea | Height: 56 metres | Wooden Blocks: 45,000
T Express is the joint-biggest wooden roller coaster in the world by height. Opened in June 2009, it is modelled on sightseeing trains through the Alps, but this is no sedate journey around Mont Blanc. The first 46 metre drop accelerates to 64 mph and riders experience a pull of 4.5G, a true thrill ride!
The other holder of the biggest wooden roller coaster in the world by height record is Wildfire at Kolmården Wildlife Park in Sweden. It has a slightly longer drop at 49 metres and the 120 second ride takes riders through three inversions and 12 airtime hills at a top speed of 71 mph.
Goliath
Location: Six Flags Great America, Illinois, USA | Top Speed: 72 mph
Goliath by name, goliath by nature! Opened in 2014, it is the biggest wooden roller coaster in the world by speed (72mph), by tallest drop (55 metres) and it has the world's steepest drop for a wooden coaster at a near-vertical 85 degrees.
It's almost a kilometre long and the three over-banked turns, a 180-degree zero G-roll twist and two wild inversions have coaster lovers queuing for hours!
Formula Rossa
Location: Abu Dhabi, UAE | Height: 52 metres | Length: 2,200 metres | Top Speed: 149.1 mph
This is as close as it gets to riding shotgun in an F1 car! Formula Rossa at Ferrari World is not about loops or corkscrews or inversions, it's all about raw, unadulterated speed. Neither the biggest roller coaster in the world nor the highest roller coaster in the world, the world's fastest roller coaster – whose design was inspired by Italy's famous Monza racetrack – accelerates to an eye-watering top speed of 149.1 mph in just 4.9 seconds and puts riders brave enough to experience the rush through a jet fighter-esque 4.8G of force.
Steel Dragon 2000
Location: Nagashima, Japan | Cost: $50 million+ | Speed: 95 mph | Height: 97 metres
The Steel Dragon 2000 at Nagashima Spa Land is a staggering feat of engineering and if we were judging the biggest roller coaster in the world by length, it comes out on top by a very long way.
With a track length of 2,479 metres (over 120 of the world's biggest dump trucks laid end to end) and a ride time of four minutes, it is the longest roller coaster in the world and one of only seven 'giga-coasters' in operation in the world, that is, coasters built purely for height, speed and airtime.
The other six giga-coasters are:
Millennium Force, Cedar Point, Ohio, USA (height: 94m, speed: 93 mph)
Intimidator 305, Kings Dominion, Virginia, USA (height: 93m, speed: 90 mph)
Leviathan, Canada's Wonderland, Ontario, Canada (height: 93.3m, speed: 92 mph)
Fury 325, Carowinds, North Carolina, USA (height: 99m, speed: 95 mph)
Red Force, Ferrari Land, Catalonia, Spain (height: 112m, speed: 112 mph)
Orion, Kings Island, Ohio, USA (height: 87m, speed: 91 mph)
The Need For Speed
The biggest roller coasters in the world are amazing feats of design, engineering and construction and they are only getting bigger, faster, higher and more impressive. Would you ride a coaster at speeds and G-forces only F1 drivers and astronauts can endure? If you're a coaster fanatic, the sky is – almost literally – the limit!