Located in the heart of Southeast Asia, Thailand's landmass of some 200,000 square miles is a mix of plains and plateaus, hills and mountains. Over 40% of its land is dedicated to agriculture, particularly wet rice cultivation, and roughly the same is forested. And, while mountains can be found scattered throughout, the highest mountains in Thailand seem to cluster together in the north of the country.
The mountainous region of northern Thailand is often known as the Thai highlands, with peaks having an average elevation of 5,200 feet above sea level. There are several mountain ranges here, many aligned in parallel from north to south. And it's in this region that we begin our search for Thailand's highest mountains.
Doi Inthanon
Doi Inthanon National Park in Chiang Mai province is a place teeming with diverse flora and fauna, including a myriad of bird, reptile, and amphibian species. Named in honour of King Inthawichayanon, the park embodies his enduring dedication to forest conservation. It's also been called the "roof of Thailand," an apt name for the home of some of the biggest mountains of Thailand. And among them, is the highest summit in the country, Doi Inthanon. A riot of verdant greenery, including a cloud forest, its peak reaches approximately 8,415 feet above sea level.
Doi Pha Hom Pok
At 7,496 feet above sea level, Doi Pha Hom Pok is second among the highest mountains in Thailand, its peak typically obscured by cloud cover and subject to strong winds. And yet its name, which means 'mountain covered by a blanket,' has nothing to do with nebulae or mists. Instead, it speaks to the dense forest that seems to carpet every square inch of this granite giant. Doi Pha Hom Pok is richly biodiverse, renowned for its flora and fauna, especially its rare orchids, butterflies and variety of birds, including the Grey-winged Blackbird and Purple Cochoa.
Like many of Thailand's highest mountains, it's located in the northern province of Chiang Mai. In the case of Doi Pha Hom Pok, it's set within the most northerly of all the country's national parks, which is named after the mountain.
Doi Chiang Dao
Ascending further, we encounter Doi Chiang Dao. This limestone colossus, soaring to around 7,136 feet, ranks among the tallest mountains in Thailand. Residing within the Chiang Dao Wildlife Reserve, it's a sanctuary for highland flowers, birds, and butterflies. It has even been recognized as a UNESCO Biosphere Reserve, reflecting the unique ecological wealth found in the biggest mountains of Thailand.
Phu Soi Dao
As we traverse the landscape, Phu Soi Dao beckons, its peak piercing the sky at around 6,955 feet. Straddling the border between Thailand and Laos, this mountain resides within the Phu Soi Dao National Park. As with others of Thailand's highest mountains, Phu Soi Dao is a living mosaic of biodiversity, home to an astounding array of tree species, waterfalls, caves, and unique endemic plants.
Phu Kha
At the east end of the Thai highlands, the Luang Prabang Range sits on the Thai-Laos border. Home to some of the biggest mountains of Thailand, it's also the source of several rivers such as the Nan and Pua. The highest peak in the range is Phou Kha. Spread between Nan Province in Thailand and Laos' Sainyabuli Province, it has an elevation of 6,820 feet and a prominence of 5,400 feet. It's named after the pink-flowered chomphu phu kha tree, also known as Bretschneidera sinensis, several of which are located in its vicinity.
Khao Luang
Not all the tallest mountains in Thailand are in the north. Nakhon Si Thammarat Province in Southern Thailand is home to Khao Luang. Towering to approximately 5,840 feet above sea level, it's the highest point not only in its national park but also in southern Thailand. Part of the Tenasserim Hills Range, it stands amid forests, rivers, and numerous waterfalls and caves.
Beyond Thailand's Highest Mountains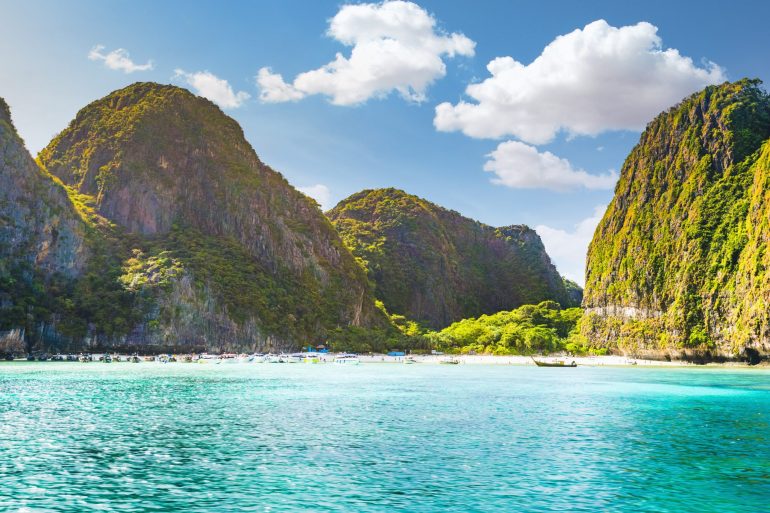 There's no doubting the grandeur of the highest mountains in Thailand. But many are famed, not for their height, but because of their symbolic and cultural significance. For example, Doi Suthep in Chiang Mai is under 5,500 feet, but is renowned for the elaborate Buddhist shrine of Wat Phra That Doi Suthep located near its peak.
The Mountains of Thailand: A Riot of Variety
Navigating through the peaks and valleys of Thailand's highest mountains, one embarks on a journey of discovery, unravelling the intricate tapestry of geography, biodiversity, and cultural resonance. From the towering Doi Inthanon to the southern pinnacle of Khao Luang, the mountains of Thailand stand as sentinels of the country's rich heritage.