England has a habit of calling a lake by any other name. Be it a mere, a tarn or waters, it seems that England's lakes will find any other possible categorisation to avoid being identified as such.
Indeed, in the entire Lake District, only Bassenthwaite Lake bears the word 'lake' in its name. But don't let this fool you. England's lakes are dotted throughout the country and are popular tourist destinations, offering a variety of activities such as swimming, fishing, boating, and hiking. They're also home to a variety of wildlife, including ducks, geese, and fish.
These watery wonders also have a cultural heritage. From Wordsworth to Coleridge, Constable to Wilde, lakes in England have inspired poets, artists and authors alike. Indeed there was an entire movement known as the Lake Poets, referring to the bards who extolled the Lake District. However, in this article, we judge these bodies of water not by their beauty or splendour, but by size. We're listing England's largest lakes by surface area.
Windermere, Lake District
Where else would you find the largest lakes in England other than in the Lake District? There are a total of 16 large lakes in this area of Cumbria, of which the biggest is Windermere.
With a surface area of 5.69 square miles, Windermere is the largest natural lake in England. This glacially formed lake is 0.62 miles wide, 10.5 miles long and 209 feet deep. Formed during the last Ice Age, it has a shingly shoreline and is surrounded by mountains. There are 18 islands in Windermere, the most notable and largest of which is Belle Isle.
Visitors can enjoy a variety of activities on and around the lake, including walking, fishing, sailing, and cycling.
Ullswater, Lake District
Ullswater is the second biggest lake in England, covering 3.44 square miles. It is also often extolled as the most beautiful.
This freshwater lake is long and thin, and is fed by several rivers, including the River Eamont, River Caldew, and River Dacre. The lake is surrounded by mountains in an area rich in history. There are numerous prehistoric ruins and Roman forts in the vicinity. The lake is also home to a variety of wildlife, including a number of rare bird species.
Bassenthwaite Lake
Bassenthwaite Lake is often called the only lake in the Lake District, a reference to the fact that it is the only one with the word in its name. It's the northernmost and most secluded of all the waters in the Lake District and covers 2.06 square miles. Despite being the third largest lake in England, it's relatively shallow, reaching a maximum depth of 70 feet.
Derwentwater
Derwentwater, sometimes called Keswick's Lake, is approximately three miles long and one mile wide. It's England's fourth largest lake at 2.06 square miles and is fed by the River Derwent. The lake is surrounded by mountains, including Catbells, Castle Crag, and Grasmoor.
The lake is a popular spot for walking, hiking, and climbing, and there are a number of trails that lead around it. The lake is also a popular spot for canoeing, kayaking, and sailing.
Coniston Water
Coniston Water is located in the heart of the English Lake District, surrounded by fells, of which the largest is called the Old Man of Coniston. Approximately five miles long and half a mile wide, Coniston Water is the fifth largest natural freshwater lake in England by surface area, but the third by volume.
Artificial Lakes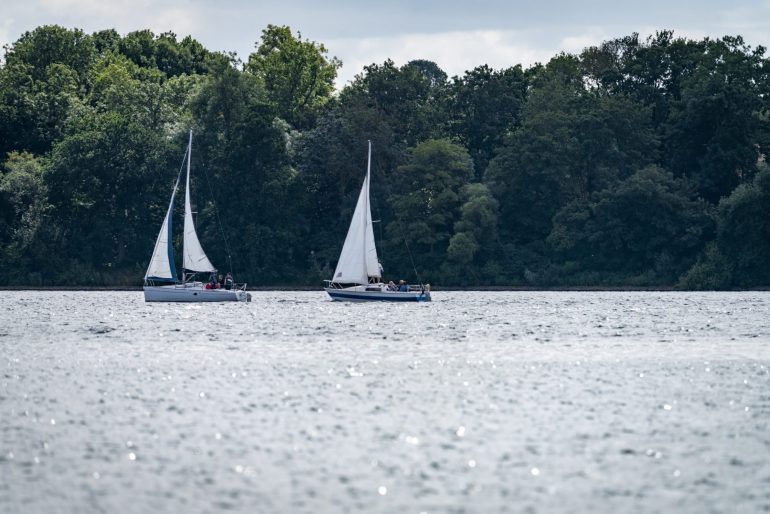 The large lakes in England described above were created naturally. However, many of England's largest lakes are man made. If artificial lakes are included in the rankings, Ullswater falls from number two to number four in terms of largest lake.
England's second largest lake is then the 4.19 square mile reservoir, Rutland Water. Built in the 1970s in the East Midlands county of Rutland, it was created by damming the Gwash Valley. Kielder Water in Northumberland is then third, with a surface area of 3.86 square miles.
England's Biggest Lakes
Looking through this list of the biggest lakes in England, it's interesting to note that so many are tightly packed together in the Lake District. Beyond that, the largest lakes in England offer a haven for wildlife and a great place for sports and relaxation.