Located on the easternmost edge of the Asian continent, South Korea is made up of its peninsular mainland and the two volcanic islands of Jeju and Ullung. While its landscape includes hills and coastal plains, with tropical jungles in the south and on Jeju Island, it's a predominantly mountainous, forested country. For context, some 70 percent of the Korean peninsula, which it shares with North Korea, is mountainous.
The Taebaek Mountains stretch along the eastern coast, running from north to south. From this primary range, several sub-ranges or "spurs" emerge, extending towards the west. Among these, the Sobaek Mountains meander west and south, housing some of the biggest mountains of South Korea. Both these ranges are part of the extensive Baekdudaegan chain that starts at Baekdu Mountain on the Chinese-North Korean border and extends down to Jirisan in South Korea. Some even suggest it extends to Jeju Island's Hallasan. As well as being seen as the spine of the entire Korean Peninsula, Baekdudaegan takes in all of the highest mountains in South Korea and North, many of which are considered holy.
In this article, we're going to explore South Korea's highest mountains or "san". And it seems we're spoilt for choice. But, before we get going, it's worth mentioning one last thing. The granite gneiss and other rocks that make up Korea's terrain are amongst the oldest on earth. In fact, they are Precambrian, meaning they date back to the earliest parts of Earth's history. As such, they've been subject to many hundreds of millions of years of erosion, reducing them in size.
Hallasan
Positioned at the heart of Jeju Island, Hallasan represents the pinnacle of the highest mountains in South Korea, soaring to an impressive 6,388 feet above sea level. Often referred to as Yeongjusan Mountain, its name translates to "mountain towering enough to touch the galaxy." At its zenith, the Baengnokdam crater lake can be found, plunging to depths of around 328 feet.
Recognized as a shield volcano from the Cenozoic Era, Hallasan is encircled by approximately 360 volcanic cones. Its immense geological and ecological significance have earned it protection within Hallasan National Park. This park has received designations as a National Monument, a UNESCO Biosphere Reserve, a Global Geopark, and holds the honour of being Korea's inaugural UNESCO World Natural Heritage Site.
What's more, Hallasan is revered as a spiritual landmark. It shares its holy status with Geumgangsan and Jirisan Mountains. The park that envelopes it is a biodiversity haven, home to roughly 4,000 plant species,a tenth of which are considered to be endangered. It also shelters diverse wildlife like badgers, deer, gazelle, and boasts a bird count of over 364 species.
Jirisan
Of the tallest mountains in South Korea, Jirisan, sometimes spelled Chirisan, is the highest on the mainland and second highest overall. Its tallest peak, Cheonhwangbong reaches 6,283 feet above sea level, with various ridges, valleys and other peaks surrounding it. It's also the highest of the Sobaek Mountains.
Like Hallasan, Jirisan holds enormous national importance for its natural characteristics as well as its symbolic and spiritual values. Primarily, Jirisan is considered one of the sacred mountains of Korea, and home to seven Buddhist temples. The largest of these, Hwaeomsa, was first built in 544 AD, reconstructed in 1701, and is known for its cherry trees as well as its holy status.
Like many of the biggest mountains of South Korea, Jirisan is protected within a national park. In this case however, Jirisan National Park was the first in the entire country. Established in 1967, it is enormous, covering an area of the southern part of the mainland roughly the size of the nation of Andorra. This area encompasses three provinces, four counties and a city. Some 5,000 species of flora and fauna are found within its borders.
Banyabong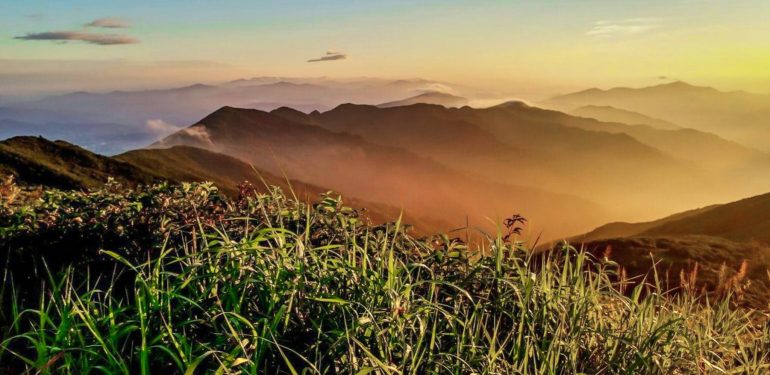 Sometimes counted as the third of the highest mountains in South Korea, Banyabong is actually one of the peaks of Jirisan Mountain and is located within Jirisan National Park. Regardless, with a top elevation of 5,682 feet high, Banyabong is certainly the third highest point in South Korea. In terms of its name, Banya is said to derive from the Buddhist word Prajna, meaning "wisdom," while bong means "peak".
Seoraksan
Seoraksan, or as some refer to it, Mount Sŏrak, features prominently among South Korea's highest mountains. This snow-capped beauty in the eastern province of Gangwon offers not just one but thirty peaks. The highest among them, Daecheongbong, stands at 5,604 feet and is renowned for its stunning sunset vistas. Seoraksan National Park, which houses the mountain range, was the nation's first UNESCO Biosphere Reserve. The park has numerous caves and waterfalls, as well as over 2,000 animal species and more than 1,400 rare plant species.
In addition to being the third of the tallest mountains in South Korea, Seoraksan is the tallest of the Taebaek mountain range.
Deogyusan
Straddling the provinces of Jeollabuk-do and Gyeongsangnam-do, Mount Deogyu or Deogyusan, is located at the heart of the Baekdudaegan range. The fourth ranking of the tallest mountains in South Korea, its highest peak, Hyangjeokbong, rises some 5,295 feet above sea level. Set within Deogyusan National Park, it's also the source of the Geumgang and Nakdong rivers.
The Biggest Mountains of South Korea
And so, while they may not ascend to Himalayan heights, the highest mountains in South Korea are plentiful in number and possess an intoxicating blend of ecological, geological and sacred significance. There are several other of South Korea's highest mountains which exceed a height of 5,000 feet. These are Gyebangsan at 5,174 feet, Hambaeksan at 5,161 feet, Taebaeksan at 5,141 feet, Odaesan at 5,128 feet, and Gariwangsan at 5,121 feet, all within Gangwon Province.