Scotland is home to the highest mountains in the UK, with several peaks reaching over 4000 feet. These mountains offer stunning views and interesting hikes for all levels of ability.
One of the most authoritative records of highest mountains in Scotland is The Munros, a classification system that dates back to the 19th century. It's named after Sir H.T. Munro, who first compiled it in the Scottish Mountaineering Club Journal in 1891.
A Munro is a mountain that is at least 3,000 feet in height (914 metres) and of 'sufficient separation' from its neighbouring peaks. Today there are a total of 282 mountains in Scotland that are classified as 'Munros'.
We're exploring the very peak of that list, with a roundup of the top ten highest mountains in Scotland.
1. Ben Nevis / Beinn Nibheis
Height: 4,411.1 feet (1,344.5 m)
Ben Nevis stands at a towering 4,411 feet (1,345 metres), making it not only the highest mountain in Scotland, but in all the British Isles. Understood to be a former volcano that imploded in on itself millions of years ago, the mountain is located in Scotland's Grampian Mountains. Today, it's a popular destination for hillwalkers and climbers looking to tackle a challenging peak.
The first recorded ascent of Ben Nevis was made by James Robertson in 1771, but it wasn't until 1883 that the mountain was climbed from its base. Since then, thousands of people have made the ascent each year, completing it in an average time of seven to nine hours.
The name 'Ben Nevis' comes from the Gaelic 'Beinn Nibheis', which translates to 'venomous mountain'. This is thought to be a reference to the dangerous conditions on the mountain, which can quickly change from clear skies to stormy weather.
2. Ben Macdui / Beinn Macduibh
Height: 4,295 ft (1,309 m)
The second tallest mountain in Scotland, Ben Macdui is located in the eastern Highlands of Scotland and covers an area of over 360 square miles. The highest of the Cairngorm Mountains, it's home to a variety of wildlife, including deer, golden eagles, and ptarmigans.
Hikers of Ben Macdui follow in the footsteps of Queen Victoria, who is said to have reached the top in 1859, through a mixture of riding on horseback and climbing. There are also legends of the mountain being haunted by 'The Greyman' or 'Am Fear Liath Mòr'. The name Ben Macdui translates as 'Mac Duff's Hill'.
3. Braeriach / Am Bràigh Riabhach
Height: 4,252 ft (1,296 m)
On the list after Ben Nevis and Ben Macdui, Braeriach is the third highest mountain in Scotland. It's located in the Cairngorms National Park in Scotland and is known for its remote and rugged wilderness, as well as its challenging weather conditions. Braeriach is often shrouded in mist and can experience strong winds and heavy snowfall.
4. Cairn Toul / Càrn an t-Sabhail
Height: 4,236 ft (1,291 m)
Translated as 'hill of the barn', Cairn Toul is a close neighbour of Braeriach. Like Braeriach, it's part of the Cairngorms mountain range. Cairn Toul is particularly famous for its well defined ridges.
5. Sgòr an Lochain Uaine
Height: 4,127 ft (1,258 m)
Around 109 feet shorter than Cairn Toul and not too far from the same is Sgòr an Lochain Uaine, the fifth tallest mountain in Scotland. Its name translates as 'peak of the little green loch', a reference to the nearby lake, Lochan Uaine. However, it's more commonly known as The Angel's Peak.
6. Cairn Gorm
Height: 4,084 ft (1,244.8 m)
There's lots happening on the sixth highest peak in Scotland. Cairn Gorm, which translates as either 'blue cairn' or 'green cairn', is home to a weather station and a ski resort.
7. Aonach Beag
Height: 4,049 ft (1,234 m)
At 4,049 feet high, Aonach Beag seems unsuited to the translation of its name, which is 'small ridge'. Aonach Beag is part of a horseshoe-shaped ridge of mountains, known as the Aonachs, which also includes the neighbouring peak of Aonach Mor.
8. Aonach Mòr
Height: 4,004 ft (1,220.4 m)
Despite being the shorter of the two, Aonach Mòr is the 'large ridge' to Aonach Beag's 'small' due to its overall bigger bulk.
9. Càrn Mòr Dearg
Height: 4,003 ft (1,220 m)
To the east of Ben Nevis and linked to it by the Carn Mor Dearg arête ridge, Càrn Mòr Dearg only just scrapes into the 4000s range at 4,003 feet.
10. Ben Lawers / Beinn Labhair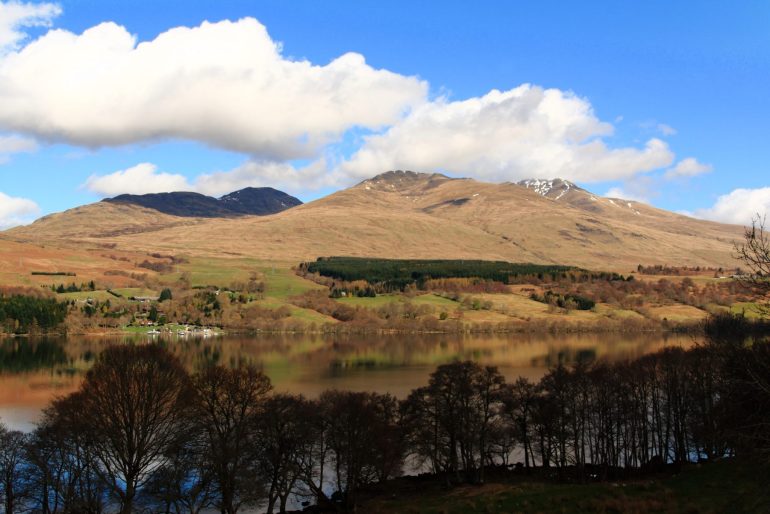 Height: 3,983 ft (1,214 m)
Just north of Scotland's sixth largest lake, Loch Tay, Ben Lawers is the final entry on the list of top ten highest mountains in Scotland and the first below 4,000 feet.
List of the Tallest Mountains in Scotland
And so we have virtually trekked all the top ten highest mountains in Scotland. In case you need a reminder, here they are again as a list, from the highest point in Scotland to the tenth:
Ben Nevis (Beinn Nibheis) 4,411.1 ft (1,344.5 m)
Ben Macdui (Beinn Macduibh) 4,295 ft (1,309 m)
Braeriach (Am Bràigh Riabhach) 4,252 ft (1,296 m)
Cairn Toul (Càrn an t-Sabhail) 4,236 ft (1,291 m)
Sgòr an Lochain Uaine 4,127 ft (1,258 m)
Cairn Gorm (An Càrn Gorm) 4,084 ft (1,244.8 m)
Aonach Beag 4,049 ft (1,234 m)
Aonach Mòr 4,004 ft (1,220.4 m)
Càrn Mòr Dearg 4,003 ft (1,220 m)
Ben Lawers (Beinn Labhair) 3,983 ft (1,214 m)