Sandwiched between Brazil and Argentina, Paraguay's natural wonders are often overshadowed by those of its neighbours. And yet, with its verdant plains and thick forests, it quietly nurtures an array of cascading wonders. In fact, the waterfalls of Paraguay are impressive both in their number and presentation.
Each of these Paraguayan waterfalls tells a story, a testament to the country's diverse ecosystems and the unyielding passage of time. As these cascades crash into pools deep below, their immense power reverberates through the surrounding landscape. In this article, we'll explore some of the most stunning Paraguayan waterfalls, from stepped, multi-layered affairs to wide, rumbling plunges.
Salto de Monday
Just 15 miles northwest of the iconic Iguazu Falls, Paraguay provides its own aquatic wonder. Salto de Monday are a majestic trio of tropical plunges in the city of Presidente Franco. Each of the three cataracts are approximately 130 feet high and are found near the mouth of the Monday River. Everything about these Paraguayan waterfalls is emblematic of the immense power of nature, from their cataclysmic force to the surrounding dense Atlantic forest.
Salto Nacunday
Boasting at least 14 waterfalls in its biodiverse subtropical forests, Nacunday National Park is a treasure trove of natural beauty. And nestled within its borders is one of the most awe-inspiring waterfalls of Paraguay. Salto Nacunday, a 360-foot wide wall of water, cascades dramatically from a height of 130 feet, just before the Nacunday River empties into the Parana River.
Salto Cristal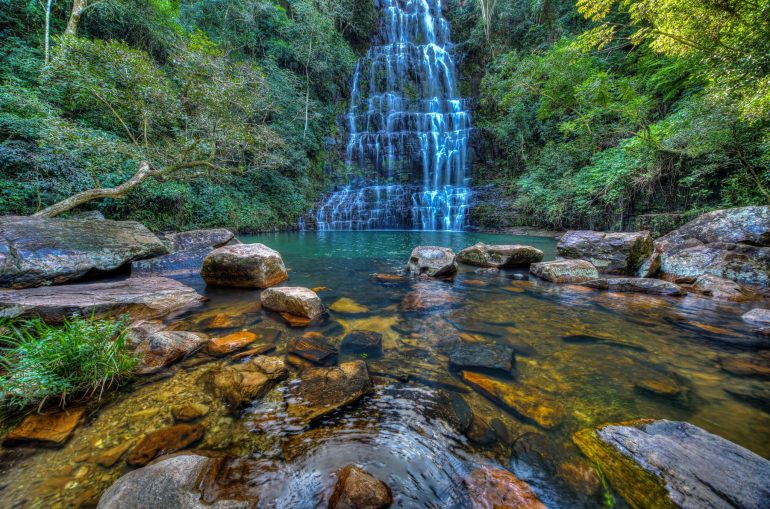 Amidst the rainforested landscape of Guairá, Salto Cristal appears like a tiered cake adorned with icing. This enchanting waterfall, with its waters dropping a total of 150 feet, is a fairy tale vision and one of the most bucolic waterfalls in Paraguay.
Salto Siete Caidas
Literally translating to "Jump of Seven Falls," Salto Siete Caidas or Salto 7 Caídas is a multi-stepped marvel nestled in Paraguay's department of Cordillera, specifically in the district of Piribebuy. This same district is a captivating landscape of Paraguayan waterfalls, with numerous routes dedicated to them.
Waterfalls of Ype Jhu: The Land of Waterfalls
Ypê Jhú, a district sometimes spelled as Ypejhu or Ypehu, is home to a staggering forty identified cascades, earning it the nickname "land of waterfalls." Among its most impressive Paraguayan waterfalls is the 260-foot Ita Kamby, located within the Mbaracayú Forest Nature Reserve. Characterized by its myriad steps, Ita Kamby is a sight to behold, alongside other spectacular cascades like Ita Aguará Charte, Salto San Miguel, and the 160-foot Salto Yaguareté.
Waterfalls of Paraguay
Paraguay's bountiful natural beauty is prominently exemplified by its remarkable array of waterfalls. From the thundering majesty of Salto de Monday's triple cataracts, to the serene beauty of the tiered Salto Cristal, and the impressive multitude of cascades in Ypê Jhú—the so-called "land of waterfalls"—it's evident that Paraguay's best waterfalls offer a captivating blend of spectacle and serenity. Whether concealed within dense forests or rumbling over wide, verdant plains, these cascades serve as striking reminders of the country's rich and diverse natural heritage.