Some 500 miles east of Madagascar, in the Indian Ocean, lies the island nation of Mauritius. With its white sandy beaches and turquoise waters grabbing all the attention, it's easy to overlook its other natural treasures, like its unusually shaped mountains and the extraordinary Mauritius underwater waterfall.
As we explore the captivating waterfalls of Mauritius, we'll journey through lush jungles, discover basalt cliffs formed from ancient lava flows, and uncover serene natural pools hidden away in verdant green landscapes. Each waterfall has a unique story to tell, from those adorned by mischievous macaques to the visually deceiving spectacle of the Mauritius underwater waterfall. These natural wonders, draped in the exquisite beauty of the island, provide breathtaking backdrops to any Mauritian adventure.
Want to know more? We're happy to oblige. So grab your sunscreen and leave the sunbed behind as we round up Mauritius's best waterfalls.
Chamarel Waterfall
In an area known for its geological importance, Chamarel Waterfall performs its incredible dive. Found in the southwest of the main island, it boasts a drop of around 300 feet, often being cited as the highest of all the waterfalls of Mauritius. A product of successive lava flows over millions of years, the proof is right behind it in the basalt cliffs that form its backdrop.
Tamarind Falls
Cheeky Macaques abound at Tamarind Falls, not one waterfall but at least seven, hence it often being called Seven Cascades. Surrounded by verdant greenery and connected by natural pools, the tallest of these cascades is some 150 feet high. Located within Black River Gorges National Park, they're on the more remote side of Mauritian waterfalls, but also remarkably unspoiled.
Alexandra Falls
Also in Black River Gorges National Park, but far better known than Tamarind, is Alexandra Falls. With two streams traversing two tiers before a final plunge, these are among the biggest waterfalls in Mauritius.
Cascade De 500 Pieds
Not far from Alexandra Falls, resides another of the largest waterfalls of Mauritius. As the name implies, Cascade De 500 Pieds is said to be 500 feet tall.
Eau Bleu Falls
With waters so startlingly clear they feature in the name, Eau Bleu has one main waterfall, but also several others, all scattered around the village of Cluny. Not only is this one of the places most teeming with waterfalls in Mauritius, but also some of the most bucolic scenes on the island. Think crystal clear cascades framed by dense greenery, plants overhanging and dipping into pools.
The Mauritius Underwater Waterfall
You may have heard of the Mauritius underwater waterfall off Le Morne Peninsula. This spectacular cataract under the azure surface of the Indian Ocean is an unearthly sight best viewed from above. And yet, this is no waterfall. In fact, it is sand from the coast of Mauritius, swept into the sea then falling from the shallow waters into the deep. Some call it an optical illusion, others a sandfall. Most know it as the Mauritius underwater waterfall.
Rochester Falls
With its geometric basalt columns, Rochester Falls bears a resemblance to the grandest of pipe organs, making it one of the more unusual Mauritian waterfalls. This unique structure forms the cliff face over which its waters tumble riotously from a height of 30 feet or so.
Cascade Leon
Everyone loves a waterfall that can be viewed from all angles and Cascade Leon or Exil Waterfall is just that. Split into three streams, one of Mauritius's best waterfalls thunders some 60 feet into a pool below, leaving a gap where they can be viewed behind their watery curtain. Nestled in the forests of the southern district of Savanne, it's set in a rare gap in the densely compacted tree cover.
Mauritian Waterfalls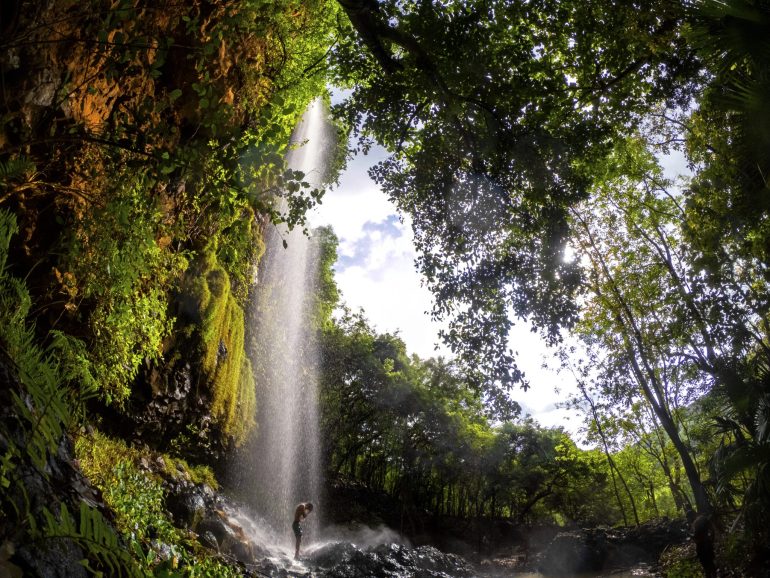 Waterfalls in Mauritius seem to be a sociable bunch. Not only are they found close to one another, but they tend to form with upwards of two streams side-by-side. Then, of course, there's the Mauritius underwater waterfall, which is all the more spectacular for being nothing of the sort.
What's clear is that the waterfalls of Mauritius are not just natural wonders, but also narrate the island's vibrant story – of its geological past, its rich biodiversity, and its alluring charm. Their presence accentuates the island's beauty, often tucked away behind its famous beaches and azure waters. They create a harmony that is both enchanting and invigorating. Moreover, these waterfalls often come with their own quirks, be it the sandfall masquerading as a waterfall beneath the Indian Ocean or the playful macaques that frequently visit Tamarind Falls.
What's more, these cascading spectacles offer something more than just visual delight. They present numerous opportunities for adventure and exploration, from challenging hikes and refreshing swims to moments of quiet introspection amidst nature. They serve as an enduring reminder that the most breathtaking sights often lie just beyond the beaten path.