With over three hundred miles of coast and over half of its landmass under forest cover, Latvia is a country rich in natural beauty. Yet, with its terrain mostly made up of low-lying plains, are waterfalls part of its charm? The answer is a roaring yes. In fact, this Baltic gem even boasts a European record breaker.
These natural features, often beautifully framed by lush forests, offer a tranquil spectacle that captivates locals and tourists alike. They tell a story of geological processes and climatic changes that have shaped Latvia over millennia, creating a fascinating blend of natural beauty and scientific intrigue. As we explore these cascades, we'll delve into their histories, formations, and the unique phenomena that occur around them.
Eager for more? Strap in as we embark on an exhilarating journey to discover Latvia's best waterfalls.
Kuldiga Waterfall
Not only is the Venta Rapid or "Ventas Rumba" considered the widest set of waterfalls in Latvia, but also in the whole of Europe. It's certainly Latvia's most famous falls. Sometimes called the Kuldiga waterfall after the city in which it resides, it stretches across between 500 and 650 feet, tending towards the wider end of that scale in times of flood. Its height meanwhile is about six feet.
Another aspect that cements its role as one of Latvia's best waterfalls is its "flying fish", a phenomenon that occurs every spring and autumn in which fish are seen jumping the rapids. Legends abound as to the formation of the Venta Rapids, including one such story which states that the Devil spilled rocks over the river, forming its precipice. In fact, it was formed by the water eroding the dolomite bedrock.
Abava Rapid
Nestled in the district of Talsi, the Abava Rumba is second in line for the accolade of widest Latvian waterfalls. This enchanting spectacle forms along the Abava River, stretching approximately 115 feet across with a drop of about three feet.
Dauda Waterfall
Located within the remit of Gauja National Park is another of Latvia's best waterfalls, Dauda Waterfall or "Dauda Udenskritums". Located on the outskirts of the town of Sigulda, it's found along a tributary of the River Gauja. This gentle cascade descends approximately eight feet and can be just as wide in times of heavy water flow.
Seven Springs Falls
On the site of a former limestone quarry in the area of Kazu Grava, literally Goat Valley, there now flow some of Latvia's best waterfalls. Known as Seven Springs Falls or "Septiņavotu Udenskritumi", they owe their existence to the aforementioned mine. That's because they traverse the limestone remnants it left behind. The result is one of the most bucolic waterfalls in Latvia, with gentle streams navigating through mossy limestone boulders, the tallest of them measuring over 24 feet in height.
Virsaisi Waterfall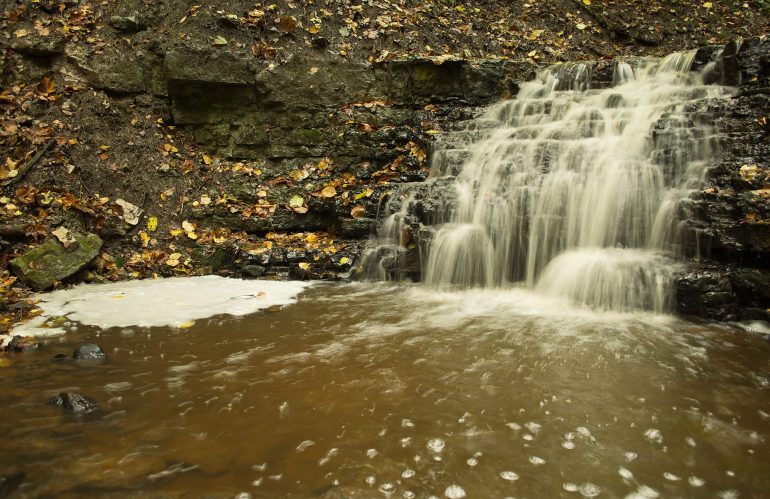 It's hard to believe that Virsaisi Waterfall lay undocumented until 1998. However, soon after its sighting, it attained the status of a natural monument. A multi-tiered cascade that ripples over layered dolomite in the forests of Abava, it has quickly cemented its place as one of the most idyllic waterfalls in Latvia.
Akmenupites Waterfall
Akmenupites Waterfall descends 33 feet over a 230-foot stretch. Some might argue this gentle incline is more a stretch of rapids that cascades, but rest assured it has been officially classed as one of the waterfalls of Latvia. And whatever its categorisation, the sight of the waters burbling between the smooth, ash-coloured stones of this small river is definitely a natural wonder.
Waterfalls of Latvia
As we've explored, Latvia's waterfalls are a testament to the country's rich natural diversity. Their widths, rather than heights, tend to give them a unique character that perfectly mirrors the country's predominantly flat terrain. From the record-breaking Venta Rapid to the recently discovered Virsaisi Waterfall, each cascade has its own story to tell, contributing to the nation's natural charm. Their existence, subtly shaping and influenced by the surrounding landscape, demonstrates that even the seemingly flat terrains of Latvia can surprise with mesmerising water features.