Jamaica is known for its pristine beaches and crystal clear waters, but the natural wonders of this Caribbean island also include rolling hills and waterfalls. Indeed, while it may be smaller than the UK, there are around 50 mesmerising waterfalls in Jamaica.
In this article, we highlight some of Jamaica's best waterfalls, from famous falls to hidden gems.
Nonsuch Falls: The Tallest Waterfall in Jamaica
Located in the thick Portland jungle near the north coast, Nonsuch Falls is believed to be the tallest waterfall in Jamaica, with an approximate drop of 290 feet. Rushing down a steep cliff face, its waters fan out into a series of tiered streams that tumble along the rocky incline. The sheer force of the falls emits a thunderous roar and generates a misty cloud of foam as it crashes into the pool at its base.
Dunn's River Falls
Arguably the best known of all waterfalls in Jamaica, Dunn's River Falls in Ocho Rios is a rare breed known as a tidefall, meaning it flows directly into the sea. This unique characteristic is paired with its impressive stature. Rising to around 180 feet in height and stretching to an expansive width of about 600 feet, it's no wonder the tiered cascades of Dunn's River are considered amongst Jamaica's best waterfalls. The nearby waterfall of Laughing Waters also flows into the sea. This much smaller cascade might be familiar from its appearance in the James Bond film, Dr. No.
The Blue Hole
Not too far from Dunn's River, another gem amongst the waterfalls of Jamaica is also found in Ocho Rios. The Blue Hole captivates with its 20-foot high waterfall, plummeting into crystalline blue waters. Nestled in the hills of St. Mary, the vibrant turquoise of the White River lends this natural wonder its distinctive name.
Reach Falls
Sheltered within Portland's Montane Forest on the John Crow Mountain Range, Reach Falls forms a striking dome with its glittering waters. This unique waterfall resides in an ecological sanctuary, where it tumbles down a rocky face into a serene, emerald pool. Fed by the Driver's River, Reach Falls is encircled by dense forests and an intricate network of caves, including hidden underwater chambers. Home to over 23 species of ferns and exotic birds like black and yellow-billed parrots, this paradise has also graced the silver screen in films such as Tom Cruise's blockbuster, Cocktail.
Mayfield Falls
In Westmoreland, the lush greenery embraces a complex of Jamaican waterfalls, underwater caves, and pristine natural pools known as Mayfield Falls. The tallest of these is known as "The Washing Machine."
YS Falls
In St. Elizabeth's Parish on the south coast one finds another bucolic assemblage of some of Jamaica's best waterfalls. YS Falls unveils a breathtaking panorama of seven waterfalls, enveloped by verdant gardens and towering trees.
Somerset Falls
More of a hidden gem than one of the best-known waterfalls in Jamaica, Somerset Falls is nestled in the forests of Port Antonio in the town of Hope Bay. There, it tumbles down a rocky escarpment into a turquoise pool.
Konoko Falls
The smooth tiers of Konoko Falls resemble those of Dunn's River, and are not too far from the most famous waterfalls in Jamaica in Ocho Rios.
Jamaican Waterfalls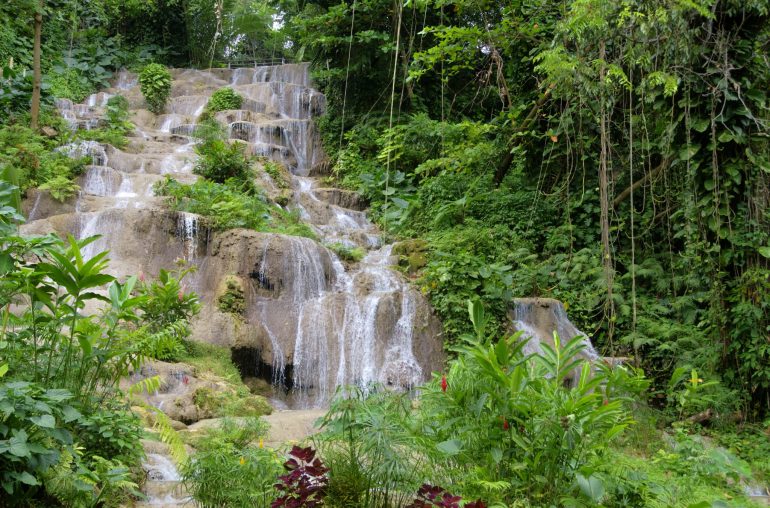 From turquoise tumbles to seaside streams, the waterfalls of Jamaica are both varied and extraordinary.