While Bali might first conjure images of sun, sand, and sea, this Indonesian island is in fact a realm of mountains, volcanoes, and rainforests. Nestled within its extraordinary landscape lie countless hidden "air terjun," or waterfalls.
It's amidst the lush and verdant interiors of Bali that you'll find cascades of water plunging from towering heights, carving out serene alcoves where nature reigns supreme. These waterfalls offer a picturesque retreat from the bustling tourist spots, their powerful torrents echoing the untamed spirit of this vibrant island. From thunderous roars to gentle trickles, each waterfall presents a distinct spectacle, a compelling testament to Bali's diverse natural grandeur.
Indeed, there are so many stunning waterfalls in Bali that selecting just a few stand-out cascades is a genuine challenge, yet we've managed to do just that. So abandon the sunbed and lace up your hiking boots as we explore some of Bali's best waterfalls.
GitGit Waterfall
When it comes to the best Bali waterfalls, the first name on most lists is GitGit. Located in the north of the island, it's arguably the most famous of its waterfalls and also one of the tallest, dropping from 115 feet. It's not difficult to devise the reason for GitGit's popularity. Not only is this powerful plunge fall impressive in its own right, but its setting is a riot of colour, from the rampant greenery all around to the reddish hue of the rock face. It also happens to be the occasional drinking hole for local monkeys. As an added surprise, there are yet more waterfalls around the main cataract, including a captivating twin fall, its two streams fountaining into one.
Munduk Falls
You might see this referred to as Munduk Waterfall, yet there are at least four cataracts here, the tallest of which is 50 feet high. Known as Golden Valley, Red Coral, Melanting, and Labuhan Kebo, these waterfalls in Bali's north are all set within a mile of each other in the rainforest around the village of Munduk. Each has a character of its own, with two plunge falls, one like a ribbon through dense moss. There's a low, wide curtain fall and even a tiered cascade.
Sekumpul Waterfall
Some say Sekumpul is the most beautiful of all the waterfalls of Bali and it's hard to disagree. In a gorge where every surface is thickly carpeted with dense moss, the water streams down some 260 feet like multiple spools of silk. The combination of the seven potent cataracts, the scale of their majestic drop and the way the land encircles the waterfall enhances the sense of the scale of this looming wonder. A slightly smaller version is located nearby, known as Fiji Waterfall.
NungNung Waterfall
If there is one word most commonly attributed to NungNung, it is "loud". Indeed, this thunderous, roiling deluge may be the most cacophonous of all the waterfalls in Bali, made all the more imposing thanks to its approximate height of 165 feet. What's more, this is the first on the list of Bali waterfalls located outside the northern region, instead found more centrally in Petang.
Banyumala Twin Waterfall
Back to the north, specifically Wanagiri in Buleleng, where Banyumala Twin Waterfall spills down into a bucolic valley and into an emerald coloured pool. Known as a twin waterfall for its two main streams, there are several other smaller falls around it.
Aling Aling Waterfall
We've seen that waterfalls in Bali like to cluster together and Aling Aling in Sambangan is no exception. Kembar and Kroya are both nearby, but Aling Aling is the showstopper in terms of size and scale. Around 115 feet in height, it rushes into a dusky turquoise plunge pool, overhung by an audience of tall trees.
Yeh Mampeh Waterfall
Not far from the coast, Yeh Mampeh is the northernmost and easternmost of all the Bali waterfalls on our list. Found in Singaraja, it's also among the tallest Balinese waterfalls, rising to around 130 feet. Sometimes known as Les Waterfall after the village where it resides, it's also known for its remarkably clear water.
Jembong Waterfall
Something slightly different among the cohort of best Bali waterfalls is found at Jembong Waterfall in Sukasada. While most of the waterfalls thus far have tended to dive down, this is a more gradual tiered cascade. Less than a mile from GitGit, it's a world away in terms of notoriety, often overlooked in favour of its famous neighbour.
Tegenungan Waterfall
We're off to Tegenungan Waterfall, proof positive that not all of Bali's best waterfalls are in the north. Indeed, this pretty cascade is sandwiched between Ubud and the coast, making it very much a southern attraction. Depending on rainfall, it can range from a simple plunge to multiple streams. Other southern Bali waterfalls include Sumampan and Kanto Lampo. With its multitude of terraces, Kanto Lampo in Gianyar is a chaotic spectacle of natural splendour.
Tukad Cepung Waterfall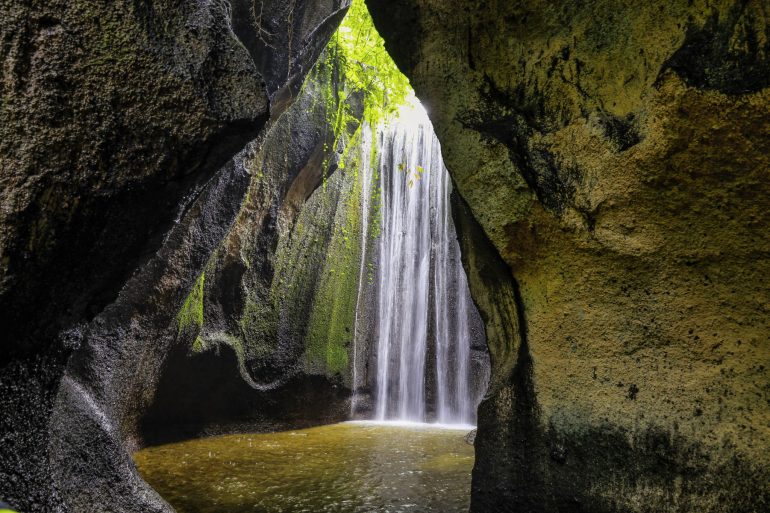 Caves and waterfalls often go hand in hand, and at Tukad Cepung, they combine. One of the most unusual waterfalls of Bali, this curtain cascade is joined by a shaft of sunlight as it delves into the depths.
Best Bali Waterfalls
So there you have it. Just a taste of Bali's best waterfalls. And, while they come in a variety of shapes and sizes, they share many commonalities, including their lush surroundings and unspoilt settings.
Whether it's the thunderous roar of NungNung or the mystical allure of Tukad Cepung, each waterfall offers a unique spectacle, a harmonious blend of power and beauty that is quintessentially Balinese. These waterfalls, scattered across the island, echo the vibrant diversity and richness of Bali itself, each bearing the unmistakable imprint of the land that cradles it.