With nine immediate neighbours, the Federal Republic of Germany sits in the heart of Europe. It spreads over approximately 138,000 square miles and, as is typical of countries in this part of the continent, has a diverse landscape.
Perhaps Germany's most famous natural feature is its forests, but it's also home to several impressive mountains. We're exploring the highest mountains in Germany, starting with Germany's highest peak.
1. Zugspitze: The Biggest Mountain in Germany
Height: 9,718 feet | Range: Wetterstein
At roughly 9,718 feet high, Zugspitze is the tallest mountain in Germany and part of the Wetterstein range of the Northern Limestone Alps. As the latter name suggests, the mountain is composed primarily of sedimentary rock and especially limestone.
As one would expect of Germany's highest peak, those who reach its summit are treated to spectacular views. In fact, reaching the so-called "top of Germany", affords line of sight of 400 other mountains and the four nation states of Austria, Italy, Switzerland and, of course, Germany. Zugspitze is actually split between Germany and Austria, the border running along its western peak.
A slightly more unusual sight at the top of the mountain is the almost 15-foot high cross which has been atop its eastern summit in one iteration or another since 1851. For those not intending to climb this enormous peak, there is a choice of three types of cable car.
2. Hochwanner
Height: 9,003 feet | Range: Wetterstein
Unlike Zugspitze, the mountain of Hochwanner is not a household name. And yet, at 9,003 feet above sea level, this member of the Wetterstein range is the second tallest mountain in Germany. So, why is it such a well-kept secret? There are lots of theories. Some think that it's hard to reach. Plus, it's a challenging climb, the mountain's north face amongst the highest in the Northern Limestone Alps. But those who reach its summit are rewarded with spectacular views and, like Zugspitze's peak, a cross marks the top.
3. Watzmann
Height: 8,901 feet | Range: Berchtesgaden Alps
The first on this list to be located entirely within its national borders, some might argue that the Watzmann is in fact Germany's highest peak. Located within Berchtesgaden National Park, it has three main peaks, the highest in the middle. There's much mythology around this picturesque mountain, and the massif to which it gives its name. The other mountains in that massif are known as Watzmann Wife and its children. Legend has it that these were once a king and his family, turned into mountains as a punishment for the monarch's cruelty.
4. Leutascher Dreitorspitze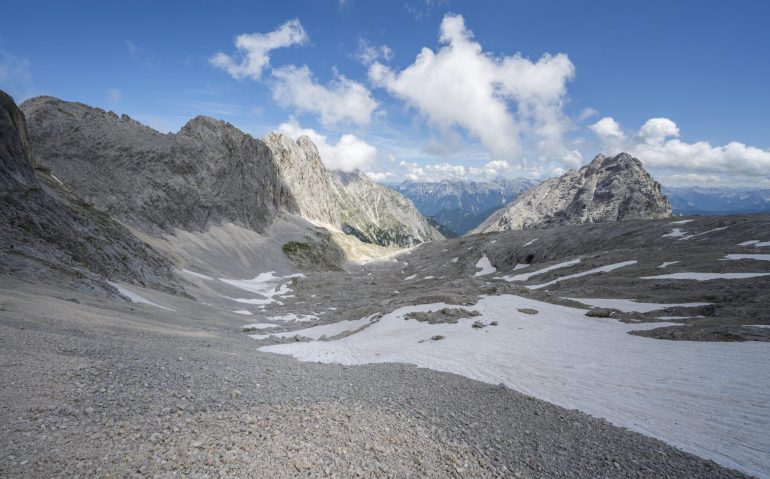 Height: 8,799 feet | Range: Wetterstein Mountains
Along the eastern side of the Wetterstein Mountains, Leutascher Dreitorspitze is part of the Dreitorspitze massif and number four on the list of Germany's highest mountains.
5. Hochkalter
Height: 8,553 feet | Range: Berchtesgaden Alps
The highest mountain in the Hochkalter massif is its namesake, and the fifth highest mountain in Germany. Reaching 8,553 feet above sea level, this limestone and dolomite peak is located within Berchtesgaden National Park. Like Watzmann to its east, Hochkalter is part of the Berchtesgaden Alps.
The Highest Mountains in Germany
From A to Zugspitze, that summits up our tour of Germany's tallest mountains. These picturesque peaks are as enthralling as they are imposing, and certainly stand out among the most impressive natural wonders of this fascinating country.