Fairies and devils, myths and history are all invoked in stories about the waterfalls of Wales. And there's a surprisingly plentiful supply of them. From 300-foot plunges to enchanting rushes, Welsh waterfalls encompass the full spectrum of possibilities.
In this article, we're exploring both the best known waterfalls in Wales and some of its hidden marvels. We'll look at both waterfalls in north Wales and south.
Waterfalls in North Wales
North Wales is home to some of the most stunning waterfalls in the UK. From rushing rivers to cascading waterfalls, these natural wonders are truly astonishing places to see.
Fairy Falls, Conwy
There's something intrinsically magical about waterfalls, which is why Fairy Falls seems such an apt name for one. This applies particularly to the delicate cascade waterfall of Rhaeadr y Tylwyth Teg or 'Fairy Falls' along the River Crafnant, definitely the type of place one would imagine mythical creatures would frequent.
Conwy Falls, Conwy
The Conwy Falls descend like an imperial staircase, curving on two sides around a central rock. This is referenced in their Welsh name, Rhaeadr y Graig Lwyd, which means 'waterfall of the grey rock'.
Pistyll Rhaeadr, Berwyn Mountains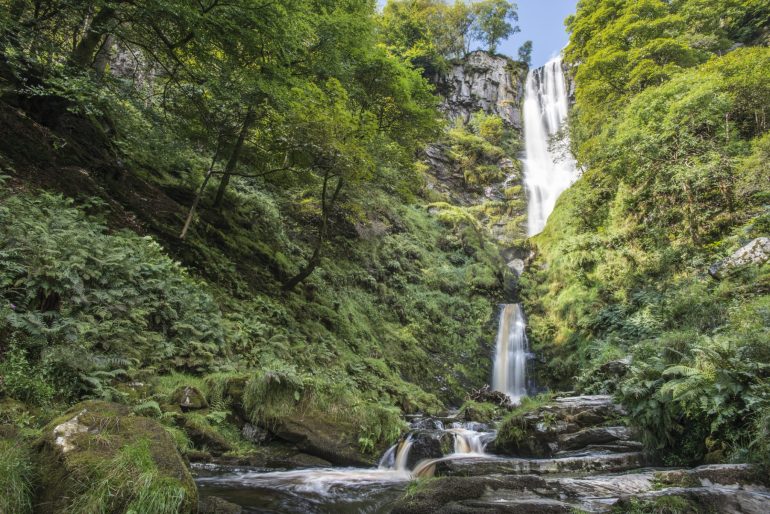 This 240-foot cascade in the Berwyn Mountains is one of best known waterfalls in Wales, albeit for a slight misconception. Many cite Pistyll Rhaeadr as the country's highest waterfall. That it is not, but it isn't far off and, regardless of this, it's a spectacular sight.
Devil's Appendix, Snowdonia
Snowdonia National Park is home to Nant Clogwyn y Geifr or the Devil's Appendix waterfall. When it's in full flow, this intriguingly named geological marvel is the highest single drop waterfall in Wales.
Mynach Waterfalls, Cambrian Mountains
It may have taken hundreds of thousands or perhaps even millions of years for the Mynach Waterfalls to form, a side effect of the Rheidol River taking a sharp turn. The falls themselves are a five-tiered affair along the Mynach or "Monk's" river. Another attraction here is the series of three bridges built one atop the other, of which one is the Devil's Bridge. Why the name? Well, they say this bridge was built by the devil himself on his only trip to Wales.
Waterfalls in South Wales
South Wales is home to some of the most beautiful waterfalls in the world, and if you're looking for a waterfall to explore on your next visit to South Wales, here are just a few of the best.
Melincourt Waterfall, Valley of Neath
Set amidst ancient woodland, the 80-foot Melincourt or 'Melincwrt' Waterfall captured the imagination of romantic painter, J. M. W. Turner, who sketched them in 1794.
Waterfall Country, Powys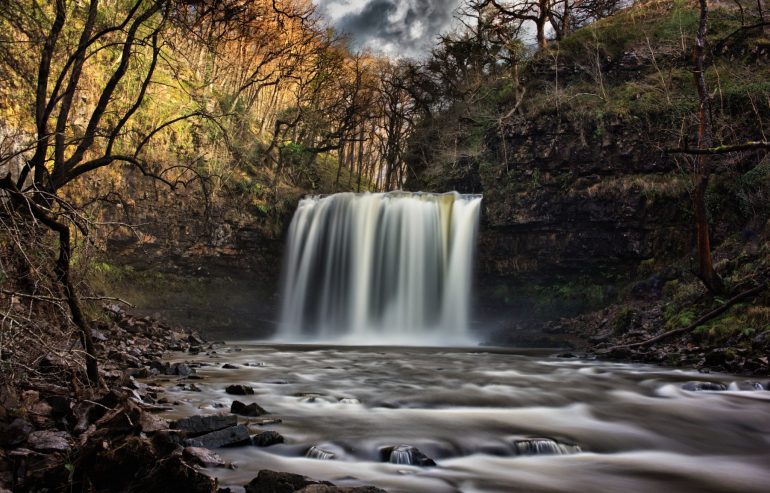 Just before they join to form the River Neath, three rivers have created a world of Welsh waterfalls within the Valley of Neath in Brecon Beacons National Park. This is Waterfall Country. Four main waterfalls form its star attractions. Of these, Sgwd yr Eira or 'waterfall of snow' is beloved for the ability to walk behind its watery curtain.
Cenarth Falls, Ceredigion
Where the River Teifi flows through the village of Cenarth in Ceredigion, salmon are known to leap and the Cenarth Falls cascade.
The Waterfalls of Wales
It's a country rich in geological wonders, but the waterfalls of Wales are amongst the most captivating. Whatever you're seeking to explore in the fascinating country, these amazing points of natural beauty showcase the outstanding waterfalls Wales has to offer.