Sweden cradles within its borders a stunning array of inspiring waterfalls, each a spectacle of beauty and grandeur, making it a prized destination for those in pursuit of the world's most awe-inspiring natural wonders.
From the commanding heights of Sweden's tallest waterfall to the subtle whispers of cascades cradled in the pristine wilderness of Lapland, these monumental water formations carve their paths through the ruggedly handsome landscape of this Nordic kingdom, ensuring Sweden's best waterfalls are an integral part of the country's natural beauty.
Want to know more? Read on as we do a deep dive on some of the most stunning Swedish waterfalls.
Njupeskar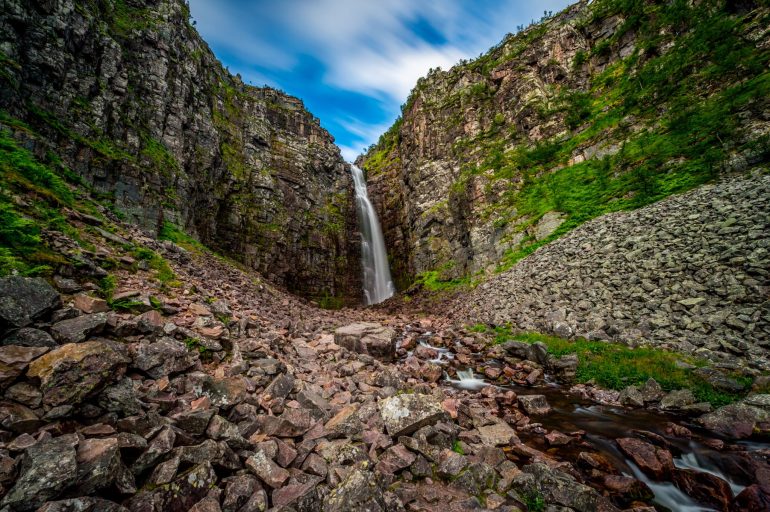 Amid the ancient alpine forests of Fulufjallet National Park, the Njupeskar Waterfall stands at around 305 feet tall. Often cited as the highest of all Swedish waterfalls, it cascades over the rim of an eroded sandstone plateau, initially falling in a series of small tiers before plunging 230 feet in one fell swoop into a craggy gorge. The power of Njupeskar generates a cloud of mist at the bottom of the ravine, creating a unique environment that is ideal for rare mosses, lichens, and vascular plants to thrive.
Silverfallet - Rakkasjohka
The beauty and ethereal quality of the waterfalls of Sweden make them the subject of much myth and lore. Silverfallet is no exception. The Sámi people, who know the falls as Rakkasjohka, have one legend whereby saying "mon ráhkistan du", or "I love you", by the falls brings good luck in love.
Nestled in the unspoiled forests of Swedish Lapland, the waters of Silverfallet cascade into an enclosed canyon, navigating the narrow corridor for a total length of approximately 98 feet and eventually finding their way into the into the majestic Tornetrask, one of the largest mountain lakes in the country.
Hallingsåfallet
In the mountainous wilderness of northern Jamtland, the river Hallingsån encounters a vast canyon to form one of Sweden's best waterfalls. Known as Hallingsåfallet, or "Slope Falls," it plummets some 130 feet in a turbulent deluge. So potent is the rush of water that it generates a far reaching mist, as well as many a rainbow.
Ristafallet
We remain in Jamtland for another of the most famous waterfalls in Sweden. Ristafallet owes part of its celebrity to being featured in the popular 1980's Swedish film, "Ronia: The Robber's Daughter", but its changeable beauty is also an undeniable factor. At 46-feet high and 164-feet wide, it's a block waterfall, and one split in two by an islet in its centre. Depending on the time of year, this feature on the River Indalsalven may present as a roiling thunderous cataclysm flowing at up to 14,100 cubic feet per second, or it might be completely frozen in place.
Tannforsen
Tannforsen, also known as Tann Waterfall, is located in western Jamtland, between Tann and Östra Norn lakes and near Mount Åreskutan. It's fed by the Indalsalven, or "Indals River," one of Sweden's largest watercourses, which sends volumes of mountain water down to the Baltic Sea.
Believed to have been formed several hundred million years ago, Tannforsen is believed to be the largest of all the waterfalls of Sweden, with an approximate drop of 121 feet, and a width of 197 feet. It has two parallel cascades that form an impressive sight.
The water drops down to Lake Noren in a frothy rush, and the flow rate can rise up to almost 28,000 cubic feet per second. The falls are surrounded by continuous humidity that allows for the flourishing of fauna and flora, and as many as 21 lichen species grow around the falls. The sheer size and power of Tannforsen make it a unique natural wonder.
Algafallet
One of Sweden's best waterfalls, Algafallet, is a natural wonder with dual nationality. Located in the region of Bohuslan, it straddles the boundary with Norway, where it is known as Elgafossen. There, the Enningdalsalv River descends around 150 feet into Idefjord. It does this in spectacular fashion, performing a chaotic, multistream slalom down a staggered rocky incline.
Muddusfallet
Many waterfalls in Sweden are located within national parks. As for Muddusfallet, it resides in one of the largest of these, Muddus National Park, or Muttos in Sami. A part of Norbotten County inhabited by people since the last major ice melt, these ancient pine forests are also protected as part of the UNESCO World Heritage site of Laponia. It's in this remote and rugged setting that the majestic Muddusfallet emits its deafening roar. Known by various names such as Muddusagahtjaldak or Muttosfallet, its waters thunder into the narrow canyon of Gahppogarssa, dropping approximately 138 feet.
Waterfalls in Stockholm
While Sweden has many beautiful cascades, there is not a wealth of waterfalls in Stockholm. The closest of the Swedish waterfalls listed above is Silverfallet, some 200 miles southwest of the city. Having said this, the municipality of Tyresö in Stockholm County is home to the serene rapids of the Wattingeströmmen-Nyfors river.
Waterfalls of Sweden
Swedish waterfalls are a testament to the country's rugged natural beauty. From the power of Njupeskar to the ethereal beauty of Silverfallet, each one is unique.