Unfurling like an ancient scroll along South America's rugged western flank, Chile's landscape bristles with daunting mountains and simmering volcanoes. These extensive peaks are just one of the reasons for the astonishing array of waterfalls in Chile, each more dazzling than the last.
These waterfalls, flowing from rivers born in the country's mountainous terrain, offer a unique spectacle of might and beauty, creating breathtaking landscapes that evoke a sense of wonder. Whether plunging from dizzying heights, roaring with unbridled energy, or gently falling into serene azure pools, each Chilean waterfall tells its own captivating story.
Read on as we journey through some of the most incredible waterfalls in Chile, from the mountains of Queulat National Park to the tranquillity of the Patagonian jungle.
Laja Falls
Venture into the southcentral city of Los Ángeles where the River Laja plummets into a canyon of its own creation, culminating in the spectacular Laja Falls, or Salto del Laja. This quartet of cataracts undoubtedly merits a place on the list of Chile's best waterfalls. Spanning 328 feet and towering between 50 to 115 feet, these four horseshoe falls present a thunderous wall of untamed natural power.
Hanging Glacier Waterfall
In the mountains of Queulat National Park in the remote region of Aysen, water plunges down from a hanging glacier. Cascada de Ventisquero Colgante, literally Hanging Glacier Waterfall, is said to have been formed fairly recently in geological terms. And yet, being one of the newest kids on the block hasn't stopped it from making its mark on the world of Chilean waterfalls, and on the global stage. Not only is it probably the tallest waterfall in Chile, but almost certainly one of the biggest on the planet. Whilst an official measurement has never been carried out, its height is estimated at between 1,800 and 2,000 feet.
Petrohué Falls
Emerging from the tranquil waters of Todos los Santos Lake, the Petrohué River forms one of the most awe-inspiring waterfalls in Chile. The Petrohué Falls, located in Vicente Pérez Rosales National Park, are a dazzling showcase of nature's raw power. The spectacular Osorno Volcano watches over as the emerald waters crash and rush around dark, shimmering rocks, the remnants of the great Osorno's past eruptions.
Pucón Waterfalls Trail
Many of Chile's best waterfalls are found in its lake district in the region of Araucanía. Just outside the town of Pucón, there's a whole trail of Chilean waterfalls, including the 300-foot Salto El Leon, so formidable that one is drenched if they get anywhere near it. Then there's Salto La China at 256 feet and Palguin Falls, another magnificent 300-foot waterfall.
Huilo Huilo Waterfall
We remain in the Lake District and, if there's one word frequently used to describe the 120-foot Huilo Huilo Waterfall or "Salto Huilo Huilo," it is "loud." This is partly due to its incredible power, the effect of forcing the waters of the River Fuy through a narrow channel. Another reason might be that its sound is all the more noticeable in the quiet of the Patagonian jungle. Whatever the reason, this is an excellent example of the immensity of waterfalls in Chile.
Ojos del Caburgua
In the verdant region of Araucanía, Ojos del Caburgua boasts three waterfalls that gracefully tumble into an electric blue pool. The sight of these serene waterfalls of Chile, ranging from 50 to 65 feet, encapsulates a vision of pure bucolic bliss.
Salto Grande
Where the vivid teal waters of lake Lago Nordenskjöld rush towards Lake Peho, one finds Salto Grande. This 50-foot high cataract is a deluge so formidable it's permanently shrouded in a cloud of rising mist. And its beauty is only enhanced by its dramatic mountainous surroundings within the Torres del Paine National Park.
Siete Tazas
Siete Tazas, or Seven Cups, refers to the series of pools interspersed between seven distinct waterfalls in Chile's picturesque Maule region. These azure pools, formed by the cascading mountain stream, lend a unique charm to this beautiful locale.
Waterfalls of Chile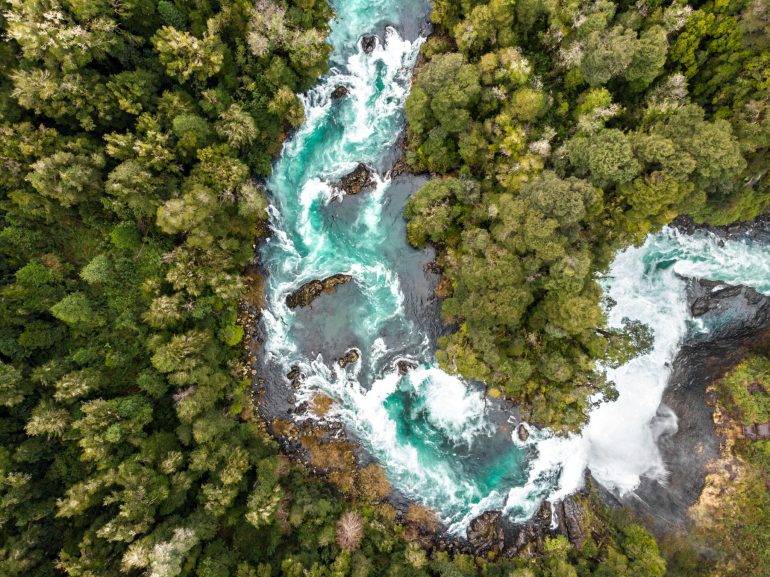 Our journey through the waterfalls of Chile ends here, but remember, these mesmerising cascades are just the tip of the glacier. From the thunderous Laja Falls and the impressive heights of Hanging Glacier Waterfall to the serene beauty of Ojos del Caburgua and the striking spectacle of Salto Grande, each waterfall has its own distinct character. And there are many more, each nestled in the country's varied landscapes, showcasing the raw power and beauty of this fascinating nation.