Barbados is a rarity amongst the islands of the Caribbean for not being of volcanic origin. In terms of the presence of waterfalls in Barbados, this unique geology, coupled with its small size, means they too are scarce.
Despite the scarcity, these elusive waterfalls contribute significantly to Barbados's diverse natural beauty. Their infrequent presence weaves an element of mystery into the island's tapestry, creating a sense of intrigue for explorers and nature enthusiasts alike. Even though the waterfalls in Barbados may not be vastly grand in scale or number, they add a distinctive charm to this island paradise, creating a captivating allure for those fortunate enough to discover them. So fret not. We've found Barbados's best waterfalls for your perusal.
Harrisons Cave Falls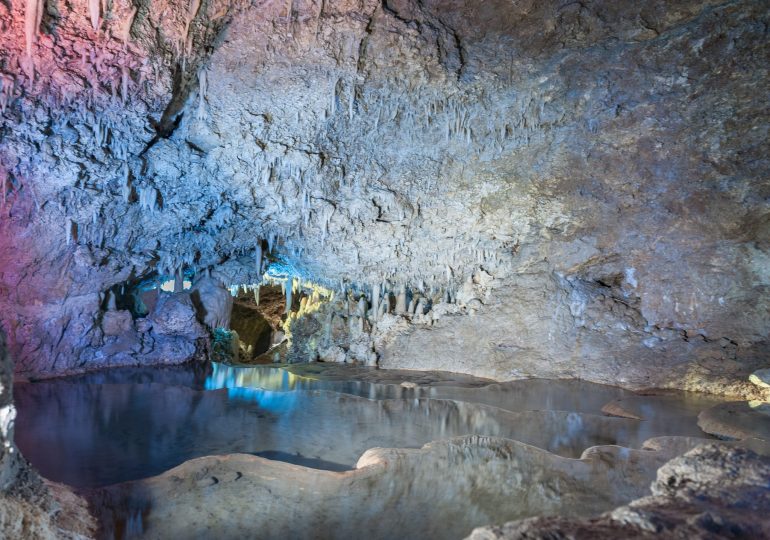 Some of the best and biggest Barbadian waterfalls are ingeniously tucked away amid the stalactites and stalagmites of Harrison's Cave in Saint Thomas. This enchanting subterranean world, rich with crystalline formations and fascinating geological features, holds within it a thrilling secret. The sound of rushing water echoes through the cavernous spaces, adding a lively pulse to the otherwise serene underground environment. This mesmerising sound resonates throughout this iconic cave system, considered one of the most important natural sites on the island. Nestled deep within the cave is its crown jewel – the highest cataract, which is said to have an impressive 40-foot drop. If the rumoured height holds true, it would almost certainly make it the tallest waterfall in Barbados. This remarkable feature is a testament to nature's ability to craft breathtaking spectacle, even in the most unexpected places. Exploring Harrison's Cave Falls is thus not just a journey underground, but a step into a world of geological wonders and surprises.
Bath Beach Falls
Sun, sand, and sea are not the only natural treats at Bath Beach. This location serves up a different kind of beauty that helps diversify Barbados's appeal. Here, against the backdrop of an inviting coastline, one finds a modest collection of the waterfalls of Barbados. The origin of these quaint displays is a freshwater spring located at the northern edge of the beach. It forms a number of diminutive cascades that flow gracefully over the smooth rocky surfaces, like miniature rivers charting their course.
Andromeda Botanical Gardens
Natural waterfalls in Barbados might be rare, but if you're craving that watery rush, head to the Andromeda Botanical Gardens near the village of Bathsheba. Here, within the peaceful confines of this eight acre garden, you'll find more than just an incredible variety of plant life, from towering cacti to blooming hibiscus and delicate ferns. Nestled among this lush and exotic foliage are some picturesque cascades, creating a serene and tranquil ambiance that is truly enchanting. These cascades, though small in scale, perfectly complement the diverse landscape of the garden, adding a touch of dynamic beauty to the tranquillity of the surroundings.
Waterfalls of Barbados
While Barbados may not overflow with cascades, the magic of its waterfalls lies in their rarity. Each one of these Barbadian waterfalls offers a unique allure, far removed from the typical island attractions.
Discovering these hidden waterfalls is a journey unto itself, a quiet adventure that takes you away from the bustling beaches and into the heart of the island's tranquil nature. As you navigate through the vibrant greenery, listening to the whispering winds and the distant roar of the ocean, you're likely to encounter these seldom-seen spectacles, each a testament to the island's subtle yet profound natural beauty.
So whether you're a long-time island dweller or a first-time visitor, seeking out these elusive waterfalls could provide an experience as rare and refreshing as the waterfalls themselves.